Nullifire products ensure stringent fire safety at new prison facility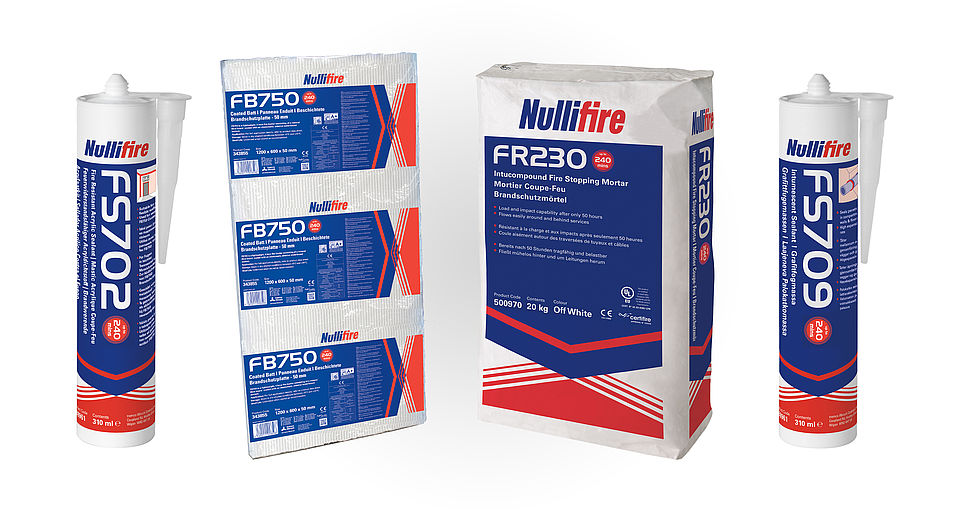 After an intensive vetting process, Nullifire fire protection products have been selected for installation across a large-scale custodial facility, HMP Five Wells, under a major fire stopping programme managed by GRJ Contracting.
The large-scale site, comprising of seven prison blocks, with four wings and seven ancillary buildings, is set to open early in 2022 and will deliver a major boost into the local economy.
Nullifire products including FB750 Intubatt Coated Batt, FS702 Intumastic Fire Resistant Acrylic Sealant, FR230 Intucompound Fire Mortar and FS709 HP Intumescent Sealant, are being installed throughout the development.
Working closely with the technical team at Nullifire, GRJ Contracting were able to offer the main contractor a wide range of fire stopping solutions to meet the stringent needs of this project.
And for the ultimate in reassurance, each installation has a specific detail reference and detail sheet, all being tracked by GRJ Contracting.
GRJ Contracting and Nullifire's technical team have worked closely throughout the project, including at the design phase, remotely viewing BIM models via an online meeting and offering advice on the creation of benchmark walls and building sections for approval before commencing work on site.
Tom Hall, of GRJ Contracting, said: "We've needed to pay attention to a wide variety of situations within the overall building, with Nullifire's technical team working in collaboration with ourselves and the client to provide details for each scenario.
"This has included prison bedrooms, which each have a riser cupboard containing M&E services such as lighting, shower heads and ducting.
"They all had to be safe and secure, and details have been provided by Nullifire to accommodate these features."
Alex Lawie, Nullifire's Technical Manager, added: "This project demonstrates the partnership approach between Nullifire and our trained partner network.
"Working with GRJ Contracting, we've been able to add real value to the project team, demonstrating how we can work together to meet the exact needs of a complex, large scale project such as this.
"Our technical department understands all the relevant regulations and requirements and works closely with specifiers to act as a trusted advisor to ensure safety and performance comes as standard."
Part of the Construction Products Group portfolio of brands, and previously available in the UK under the Firetherm name, Nullifire products are used extensively across built environments, with the benefit of highly knowledgeable technical support and service, stringent manufacturing processes and testing regimes, to ensure the ultimate peace of mind in the specification process.
To find out more about Nullifire visit our website.