Different Types of Intumescent Coatings & Their Benefits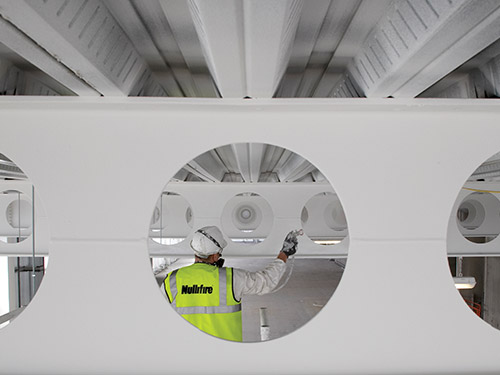 There are a couple of ways to fireproof a building and normally they are mentioned as active fire protection and passive fire protection. While active fire protection requires a trigger (action) or an alert for it to function (i.e., a sprinkler system), passive fire protection is often classified as coating or cladding arrangements, or free-standing systems which, in the event of a fire, will provide thermal protection to restrict the rate at which heat is transmitted to the object or area being protected.
In this article, we will focus on one aspect of passive fire protection, intumescent coatings, and examine the pros and cons of the different types to help you make an informed decision when employing the best option for your next construction project.
What is intumescent paint?
Intumescent paints are considered the lightest form of passive fire protection. An intumescent is a coating that, when exposed to heat, is rapidly transformed through sublimation, and expands many times its original thickness (up to 100 times), to form a stable, carbonaceous char.
The resultant char reduces the conduction of heat from the fire to the substrate, delaying the time it takes to reach structural failure. This carbonaceous char must have the ability to remain in situ during any movement of the steel, such as expansion or deflection, until the required protection criteria is achieved.
Intumescent paints are typically applied using airless spray paint equipment for speed and quality of finish, whilst some brands might require large plural spray equipment, although brush and roller applications may also be used. Depending on the project specification, which is usually up to 120 minutes, the vast majority of the intumescent materials in the market would need several coatings to be applied in order to reach the required dry film thickness to protect the structure from failure.
Common types of intumescents
1. Water-based Intumescent
Water-based intumescent coatings are a generally more eco-friendly, and less-chemically smelling option. They are the least expensive and produce less odour, however, these coatings are less tolerant to humidity and low temperatures and therefore may take longer to completely dry in such environments.
2. Solvent-based Intumescent
Solvent-based coatings usually used in semi-exposed environments and are tested against weather and temperature variations. Solvent-based coatings tend to be more resistant to weather conditions, than water-based, as well as temperature and humidity changes. They also dry faster and more consistently, as well as having a smoother finish.
3. Epoxy-based Intumescent
Epoxy-based intumescent is typically used in harsher environments such as the offshore marine industries or the chemical industry because these coatings provide excellent hydrocarbon fire protection. Epoxy-based intumescent comes in two-parts which when combined, forms a very thick and durable film that insulates the steel member and is highly resistant to corrosion.
Introducing the Hybrid Intumescent
Introducing the Hybrid Intumescent
In 2014, a new technology emerged in the field of intumescent coatings – the Nullifire SC902 Hybrid intumescent. This technology was developed to provide faster cure times without multiple coats, while still delivering the same level of fire protection and ratings.
Premium Unique Patented Technology
Nullifire's SC902 is an innovative Hybrid intumescent coating, tested for up to 120 minutes fire rating (for BS 476 and EN 13381-8 approval), that delivers ground-breaking performance for the protection of steel work in C1-C5 environments. Its fast-track and fast-cure properties have been optimised for on-site and off-site application. The unique composition of the new technology allows it to be applied in excess of 5mm in a single layer, thereby covering all the steel sizes in a project without the need for multiple layer application. This, gives new levels of assurance to architects, main contractors and specifiers, and acts as an incentive to ensure that products are used and applied correctly and in accordance with approvals as well as local requirements.
Intumescent
Advantages
Factors to Consider
Water-based

Usually low Dry Film Thickness (DFT).
"Green" label and environmentally friendly due to low VOC.
Suitable for indoor environments and closed quarters.

Longer drying times may occur in tropical countries due to humidity levels in the atmosphere.
Multiple coats may be required to reach the required DFT.
Can only be applied in C1 and C2 environments.
Can only be used inside a building as it is water sensitive.
Can only be applied after the steel has been erected.
Will create an "Orange peel" finish.

Solvent-based

Low DFT.
Faster drying times.
Can be applied semi-exposed in a building (with topcoat).

Multiple coats may be required to reach required the DFT.
Can only be applied in C1-C3 environments.
Higher VOC compared to Water-Based.
Can usually only be applied after the steel has been erected.

Epoxy-based

Excellent intumescent material that can also be used for hydrocarbon fire protection.
100% volume solids.
Can be used in the harshest environments (i.e., petrochemicals)
Can be applied offsite.

A "thick-film" intumescent that requires multiple layers.
Requires specialist spraying equipment to apply.

Hybrid

Single application suitable for on-and-off site work.
Fast-track and fast cure properties.
Low VOC.
Smooth finish.
Water resistant (showerproof) in 1 hour.
Suitable for all types of environments C1-C5.

Only available through Nullifire-approved agents.
Passive Fire Protection Specialist
Nullifire has been at the forefront of the passive fire protection market for over 45 years.
Here at Nullifire, we have always strived to provide fire protection systems that will, ultimately, perform in a fire situation. As such, we have been at the forefront of developing several waterborne intumescent systems over the years.
All of Nullifire's systems, be they intumescent coating for structural steel protection, or the comprehensive fire stopping range, have been fully tested to relevant British, European, Australian and Japanese test standards allowing them to be used in the whole of Asia Pacific. Additionally, where required, Nullifire has all the local country certifications required for use in those countries.
Our expert team are on hand to help you in any current or upcoming project you may have, do get in touch with the team.