Nullifire's FF197 is used to seal linear gaps throughout the fire rated areas of a building. This pink fire foam is easy to identify and cures to form a semi-rigid foam that can accommodate some degree of movement of the joint.
FF197 acts as an effective fire seal for up to 4 hours (BS EN 1366-4) when used with FS702 Intumescent Acrylic or FS703 Silicone Sealant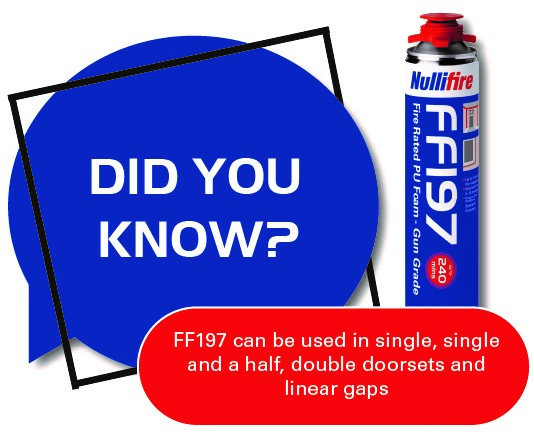 Approved Applications of FF197

Approved Applications of FF197

Nullifire's FF197 is approved for use within:

Single Door
Door and a quarter
Door and a half
Double doors

FF197 works with standard plastic and wooden packers, and no architrave is required upon installation.

Benefits of FF197

There are many benefits to using FF197 in your applications. Some of them are listed below:

Works with standard plastic and standard wooden packers
No architrave required (but can be added if required)
Gaps up to 35mm
Up to 4 hours on linear gaps
Also gives 30 minutes on all the above doors (1,2,3&4) at a reduced frame width of 70mm
Pink coloured foam for easy identification
Tack free time in just 10 minutes
Gun and straw compatible

FF197 Testing and Certification

FF197 Testing and Certification

Tested to BS EN standards, FF197 is the only fire rated foam available on the UK market place which is fully supported by third party accredited testing.

BS EN 1366-4 Fire resistance test for service installations. Linear joint seals.
BS EN 1634-1 Fire resistance test for doors, shutters and openable windows.
BS476-22 Fire resistance of non-loadbearing elements of construction. Building materials and structures.

How does EU Fire testing compare with BS fire rating testing?

Both Standards use thermocouples The European fire test standards (BS EN) all use the more advanced plate thermocouple technology to measure the air temperature, BS476 series of tests use the wire thermocouple option. BS EN (British Standard European Norm) 1366-4 could be considered a more vigorous test because it is tested to a more consistent recorded temperature.

FF197 is Tested to BS EN 1366-4, BS EN 1634-1 and meets BS476-20 & 22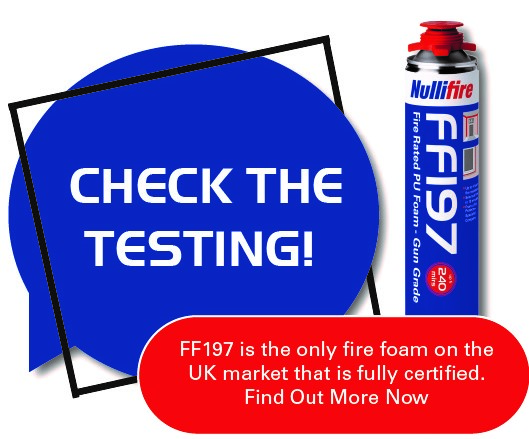 We understand that you may want more information on FF197 - simply fill out this form to get access to our testing certificates.
---